$9000 Profit From Trading
$9000 Virtual Profit From Trading
---
$9000 Virtual Profit From Trading: This week we spoke with Görkem G; one of our newly minted funded traders who have just earned a $9000 virtual profit from simulated trading He shares not only his simulated trading journey; but principles on risk management, psychology, and look into his strategy as well.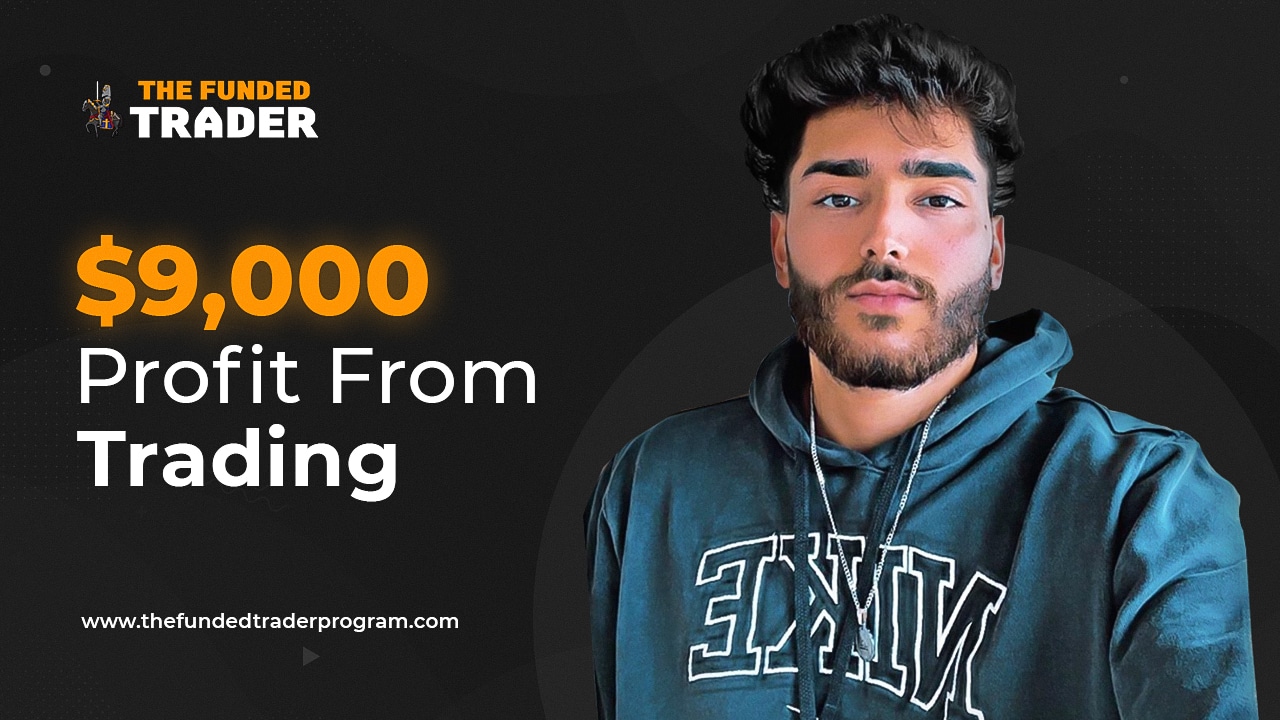 "If something goes wrong it is just a lesson, use these lessons to grow"
– Görkem G

Hello, Kings and Queens of the Funded Kingdom, Today we talk with Görkem a former professional boxer, and discuss his experiences within the FOREX community, his rise to success as a full-time trader, his personal background which helped lead him to this point, and his $9000 virtual profit from trading!
Görkem G has officially received his first payout!
As this week's Funded Trader Interview kicks off, Tori lets us know that this is a special interview due to the virtual profits made, requested, and received by Görkem. Görkem is a 23-year-old, Germany-based trader whose origins are Turkey and Greece, Görkem is also a student of economic psychology which has helped him with his endeavor in the simulated trading field.
Tori asks Görkem if he had been interested in the FOREX space prior to joining the school, to which he replied no, "it all started in 2020" when he was an average college student thinking "I have no money, how do I make more money for myself?".
After almost two years of researching and looking for another form of income, Görkem found several YouTube videos that he would watch, study, and internalize, then repeat this process until he had a true understanding of the information at hand. Görkem then goes on to explain how he found an FTMO YouTube video explaining what a prop firm is, and he was hooked, he knew he no longer had to have the capital, just the knowledge!
How did you find The Funded Trader?
He explained that he had started with FTMO, took multiple challenges, and then failed, Görkem thought "maybe it's a problem with them" (Görkem chuckles when saying this) so he gets two separate accounts from MFF, a $25k account, and a $50k account.
After failing both of these accounts, Görkem went on the hunt for a prop firm that could offer him a challenge with no minimum simulated trading days and wound up coming across a YouTube video for The Funded Trader.
After finding out that The Funded Trader had the Rapid challenge, which has 0 minimum simulated trading days, Görkem purchased the challenge and passed his first try!
Is there a big simulated trading community there in Germany?
Görkem quickly responds by saying there really is no community for traders where he is, and although he has a large friend group, the people he associates with don't have aspirations in the simulated trading field.
As the conversation continues, Tori and Görkem speak to the fact that most, if not all traders are "in the same boat" when it comes to outside exposure.
Most people don't trade or even know what simulated trading is, and the fact that we can come together even online is an extreme help and allows us to connect with like-minded people and groups.
Can you share some of your strategies with us?
Görkem immediately says yes I will share my strategy and some of my techniques, however, it's very different from the normality. As Görkem prepares his screens to show us his trades, Tori explains how he is a psychology-based trader and that the majority of traders tend to overlook the true importance of the psychological aspect of trading.
Görkem begins showing us his charts, and he says "I always start by looking at the monthly charts to look for big movements", then moves to the weekly charts to get a better idea of the movements he can catch with his strategy.
After Görkem explains in depth how he looks for entry points, it seems that a significant portion of his strategy is based on support and resistance levels coinciding with strength indicators. "You shouldn't overcomplicate trading" Görkem warns that people shouldn't overpopulate their charts and that simplicity is key!
While working through his previous trades, Görkem also tells us about some trades that he lost. "You're either right or wrong and if you're wrong it's just a lesson for you". We shouldn't be disheartened by a loss, we should instead take it as an opportunity to learn, grow, and advance as a trader.
Forex simulated Trading Psychology Background
Görkem delves into his psychology background and speaks to how different every person is and how not every strategy will work proficiently for every person.
Risk management appetite is different, gains expected are vastly different, tolerance for time and analysis is different, and we all have different expectations and tolerances with the financial markets and this is why we must all develop our own strategy that works best for us.
Continuing with his trade breakdowns, Görkem tells us that he never holds for an entire day, his trades are usually within a couple of hours.
When did you get funded by the Funded Trader, what was your account size?
I started with The Funded Trader 3 weeks ago with a $100k challenge. I lost 8 accounts before I came to The Funded Trader and took my biggest challenge yet, the $100k  Rapid challenge. Görkem passed the Rapid challenge phase one in 1 day then passed, got his funded account in 3 days (Gaining access to his first ever live account), and went on to lose his first 3 trades reaching $1,000 in losses. Görkem took this as motivation and brought his account back into the virtual profits and got his first payout in 2 weeks' time.
Görkem thought that a $2,000 payout was huge, and he was ecstatic that he was fortunate enough to get a $9k payout. After Görkem went through the simple and easy process of taking the challenge, making virtual profit., and receiving his virtual profits he knew that he had finally found the firm that works best for him, and now he knew that this field was not a scam as so many other thought.
Görkem speaks about how convenient, timely, and helpful support teams here at The Funded Trader are and how much he truly appreciates the effectiveness. The Funded Trader is a firm built by Traders for Traders and due to this, we have your best interest in mind. We all need a community to rely on and have in our corner, and that is what we are establishing here!
What is some advice you would give to newer traders?
The most important thing is we need to zoom out! We need to believe in ourselves and acknowledge that we aren't going to succeed at everything we try, perseverance and dedication is what will propel us into success.
We have to have the mindset of a winner, "I am worth 10k a month"! If you don't believe that you're worth what you desire, then you will never gain what you desire.
Görkem then goes on to tell the viewers to enjoy the time they have spent and will continue to spend learning and advancing.
Understand the worth of your time, and understand what the time you spend doing unproductive things could achieve if spent differently. Instead of playing games or watching TV try to advance yourself and become the person you believe is worth 10k a month.