Blake's Journey Through the Forex Industry and his top 3 Prop firms
This week we speak to Blake, one of the Founders and the Chief Growth Officer at The Funded Trader who everybody knows to be a huge part of starting the firm. He graduated from Arizona state with a business administration degree. He shares not only his simulated trading journey, but thoughts on the prop simulated trading industry as a whole.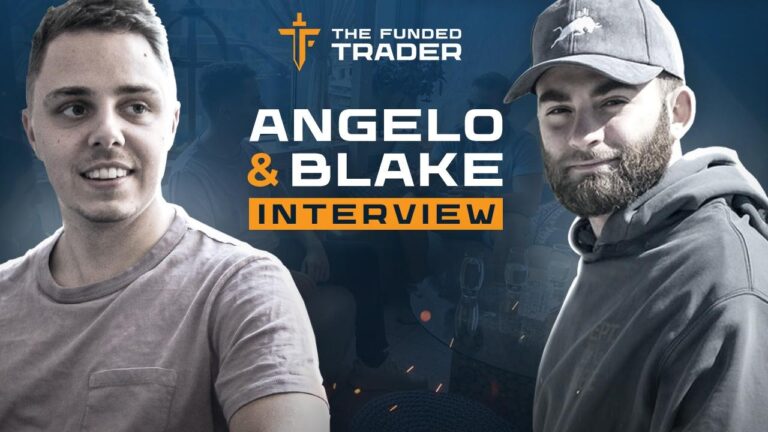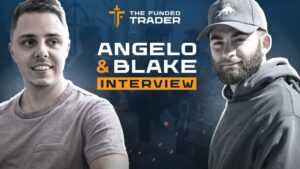 Starting a Prop firm
It all started when he was in college. Blake was teaching people how to trade but for another company and for his own. It eventually got to the point where he wanted to prove himself, so he started taking challenges from other prop firms because TFT wasn't around yet.
He passed it and made videos on his YouTube channel about it which got a lot of attraction and popularity. He started passing more and more virtual profit challenges and he was making more videos on YouTube about it. He eventually got curious enough and wanted to know how those prop firms were doing it.
He kept asking himself questions; "How are they so successful? How are there so many of them? Is it a viable business strategy?" Although he couldn't find answers at that point, Blake started looking into it and eventually got contacted by Angelo. They started to talk a little bit more in detail about how they could start a really good prop firm that would be more competitive than the rest of the industry. This was the beginning of The Funded Trader.
From Angelo's perspective, he wanted to know what Blake was up to so he went to his YouTube and saw him starting off and taking the challenges. Angelo knew Blake was putting those videos together because he genuinely wanted to help people with passing the challenges which people were really grateful for.
Getting into Forex Trading
Blake first got introduced to Forex in his freshman year of college when an MLM reached out to him and basically recruited him. He was never really interested in the MLM side of it, but it was there he got his initial prop firm insights. He never made a single dollar from recruiting anyone or anything like that, but he stayed with the company for nine months and had in-person access to the top traders of that company which was how he first learned his initial 'baby steps' of trading. It then progressed from there because he started teaching other people how to trade and then eventually started his own company.
Forex simulated Trading vs Running a Business
Blake believes simulated trading and running a business are both difficult but in their own ways. With simulated trading it all comes down to "do you know your stuff?", whereas with running a business you definitely need to know your stuff. You need to know how to file your taxes, how to hire the right employees, how to have good relationships with your other co-founders and also how to balance everything all together in order to have a successful business. Thinking about it again, Blake says running a business can actually be more difficult because it matters so much to other people whereas simulated trading is all alone. In trading, if you fail you know it's on you and not on anyone else which was not always the case in business.
Prop firm industry in five years
In five years from now, Blake thinks the prop firm industry will be almost completely mainstream. He thinks that it's still in its early infancy although a little bit more progressive than before with all the bigger companies coming into the picture. Blake feels people are waking up to the idea of the prop firm being the best if you just have a small amount of capital or only want to risk a small amount of money in order to get big amounts of funding. The whole industry has been growing so fast over the last couple of years and he doesn't see any sign of it stopping soon.
Advice for someone just getting into forex
For someone just getting into Forex, Blake advises to be sure not to risk your own money in the beginning. Although everyone says that, very few people actually do it. They think they're the special snowflake that is going to be able to not need a demo account and can just start a real funded account with maybe a couple hundred or thousand dollars but then they end up blowing the whole thing. He advises to make sure to stick to your demo account for a long time before deciding to go with your own account or to risk the prop firm's money. He says for someone with enough research, they'd find it better to go with the latter.
Current day-to-day focus
Blake has moved away from the normal simulated trading type of things and all in on the prop firm scene. He is a huge fan of prop firms and everyone who's a follower of his channel knows that. He's also really involved with The Funded Trader along with helping a couple other prop firms as well.
He wants the whole industry to evolve and to grow even more than it already is.
Angelo commends Blake for being a huge reason that TFT continues to offer great challenges and makes adjustments that people are really happy with. He also appreciates him continuing to increase his expertise across the industry.
Transparency about TFT & Elimination of Bias in reviewing Prop firms
Over a year ago, Blake posted a video on his channel where he said he was not going to let his opinion be swayed by being a part of The Funded Trader. He has done a really good job of that thus far. Although he understands that it might have a little bit of a conflict of interest which is one of the reasons, he has also been very transparent about his ownership in The Funded Trader. He has, however, done a good job of being honest with The Funded Trader as well as with other prop firms which he believes help him in giving an unbiased review of all the platforms as a collective.
Angelo also agrees and says that part of the attraction of working with Blake was how genuine and authentic his messaging and communication style was on his page.
Blake thinks the biggest part of transparency is honesty. He says there are several prop firms that buy Trustpilot reviews, hire celebrities, write reviews about themselves and put them in paid articles to make them look more legit than they really are, but TFT has never done any of those. In his opinion, it is one of the most transparent prop firms out there.
Blake names top three prop firms
Blake has done quite a few top X videos and recently did a top 4 video focusing just on prop firms that have an instant funding program. However, naming his top three overall, he says The Funded Trader more than deserves to be on the top spot or as one of the top three because they've earned it. His second choice was the classic prop firm that paved the way for the rest of the industry i.e. FTMO. The current most underrated prop firm which he chose as his third choice was the Funded simulated Trading Plus.