From IT Operations to Gamifying Fin-Tech
Angelo talks to Brian Highfield about how he went from IT operations to gamifying FinTech in a podcast "Good life, Great life".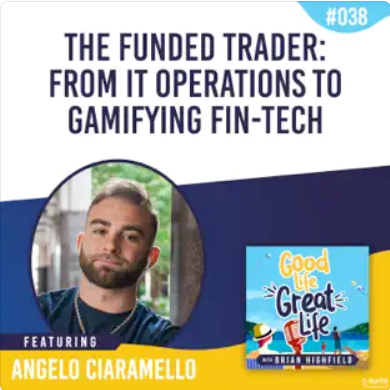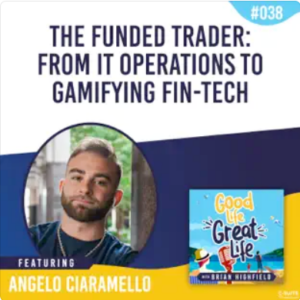 Audio Podcast
Angelo shares previous Work Experience
Angelo is a 27-year-old tech enthusiast and founder of 'The Funded Trader'. Like most people, he went to college, studied IT as a major and ended up becoming really passionate about IT and social informatics.
The whole time he was going through this, he knew that he wanted to do more and as he started getting internships, he tried to apply himself to it. However, He was getting a lot of feedback about his ideas but they weren't promising and he knew it was because he was at the bottom of the corporate ladder. He came to realize the culture wasn't for him and he wanted to be more of a leader.
Although he was still going through a sort of transformation internally and trying to figure himself out, he was working on his potential and leveraging on resources he got at the university.
The Journey of a Serial Entrepreneur
Angelo didn't get a job as soon as he graduated college and his parents were pretty sad about it. Instead of being sad, he focused all his entertainment on his mental and physical well-being. He also focused on learning a skill. He knew that if he had clarity of thought and a good level of commitment and discipline, he'd become very good at that 'one thing'. He went online and started looking for ways to make money.
He saw a lot of options; e-commerce, drop shipping, private label, selling courses and trading. He started with simulated trading and became convinced it was something he wanted to do when the money he invested into the tech stocks went up. He got more immersed into it and his singular focus became day trading. He was a day trader learning forex, crypto, indices, etc.
The major thing which pushed him more into crypto was losing money in 2017. He knew he needed to become more educated on what was going on in the markets fundamentally and from a technical standpoint. He didn't want what happened to him initially to repeat itself and he knew he had to learn. This became his motivation.
Juggling a full-time job and Forex Trading
Angelo continued to trade himself but wasn't making money with the way he was going about it. He was however content with the learning experience because that was his goal at the time. He came to realize that he had a great degree and decided to utilize it, while he continued to learn and apply his skills. Luckily, after the next 6-8 months, he got a job.
The job he got first was with a shipping company as a digital marketing specialist and sales development representative. From there, a position opened up in IT and he got accepted into the IT program of the pharmaceutical company. Since he was passionate about IT, getting there, everything he was learning and working on in that role; emails, testing automation for websites, he knew he had to put back into his own business.
The average person in his job at the time cared more about how to keep their jobs but Angelo was more particular on how to build his business. He started to dedicate his lunch time to reading and working towards this goal.
The beginning of TFT
Angelo took the first step to building his business by growing a social channel. Although he was still a day trader, he knew starting an online community where he could meet more people doing similar things was something that would be very powerful.
With his few years of experience in trading, analysis, and knowing where to look for information, he had an edge compared to beginners who were just starting out to learn: this brought about the creation of the social channels on YouTube, Instagram, and Discord but it was basically about day trading.
Angelo continued to leverage on skills he was learning at his job for his business and soon the community began to grow, and he was able to generate his first income from it by selling courses and programs. He also ventured into affiliate marketing and doing this, he saw more growth on the channels.
There were over a hundred thousand followers on Instagram which also brought about some sort of influence for the business. His contacts also began to grow, and he started to think of how he could use the influence to create and deliver products that people actually needed. This was when he got the idea of starting 'The Funded Trader'.
About TFT
TFT is a platform whereby traders try out to manage the company's capital. A two-step challenge was created in order to gamify the industry. People try to prove their simulated trading skills through taking the simulated trading challenge and if they pass, they're given the opportunity to trade with the capital. The agreement therein is that whatever virtual profit is made from using the capital, traders are paid 80% of it. For instance, if a trader earns $10,000 in profit, they gets a payment of $8,000. Since the launch of the platform 1 year, 8 months ago, almost 20 million dollars has been paid out.
Angelo says what TFT is doing is truly revolutionizing and doesn't think any other company in the US currently has the same impact on the simulated trading industry in terms of forex, crypto and leverage trading.
The model that was created for this purpose is one where you can enter anywhere from $300 to $1500 and with that amount, if you do have the skills and are able to pass, you unlock the ability to manage an $100,000 or $200,000 or $400,000 in capital, which is insane for the entry fee.
There's also a new website coming on and getting that going so as to unify brand identity across all platforms is of utmost importance.
Angelo shares his views on early competitions
When TFT first started, although early, the largest competition faced was from FTMO. Angelo says he originally also purchased challenges from them. The second on the list for Angelo was 'My forex funds' based in Canada. TFT is, however, still the first US company that started doing this based on all the competitors, industry analysis and website traffic. TFT also started several other companies in the US and internationally teaming up with other influencers and 'white-labeling' it.
Challenges faced as a Business Owner
As the CEO of the company, Angelo says hiring is one of the biggest things, especially with the surplus of cash. Hiring isn't easy because no one wants to waste so much time on an interview process, but it's needed to get the best talents.
The need to bring in additional talents is also a challenge. Angelo is focusing on hiring key players and he recently hired a director of risk; a friend from college, someone who is really dominant in his role.
Another challenge is the decision making on what to put money into and whatnots. Also, how to focus on risks and cash management strategies.
Goals
One of Angelo's personal goals is to have an office and headquarters. There currently isn't one and the organization has been working remotely. However, there are about 40 employees working all over the world for the growth of the company. Angelo feels getting a physical office in a place like Miami and hiring more people would give him access to mentor them and learn from them as well.
Advice for Entrepreneurs
"Be realistic and honest about where you are and where you want to be" Angelo says self-actualization is very important and it was what helped him. Although there's still a lot more to learn to get to where he wants to be, he was able to do a lot of learning to get to where he is now.
Time management is another crucial aspect. As a boss, you can create your own schedule especially since no one tells you what to do. However, if you're not great with time management, you could hurt your company in the process.