Funded Trader Max breaks down his $6,500 Profit from Trading
Funded Trader Max breaks down his $6,500 Virtual Profit from Trading
---
"The mindset is the most important part of trading" – Max Kim

This week we speak with Max, our newly minted funded trader who has earned $6500 in virtual profit as a funded trader. He shares not only his simulated trading journey; but principles on risk management, psychology and a look into his strategy.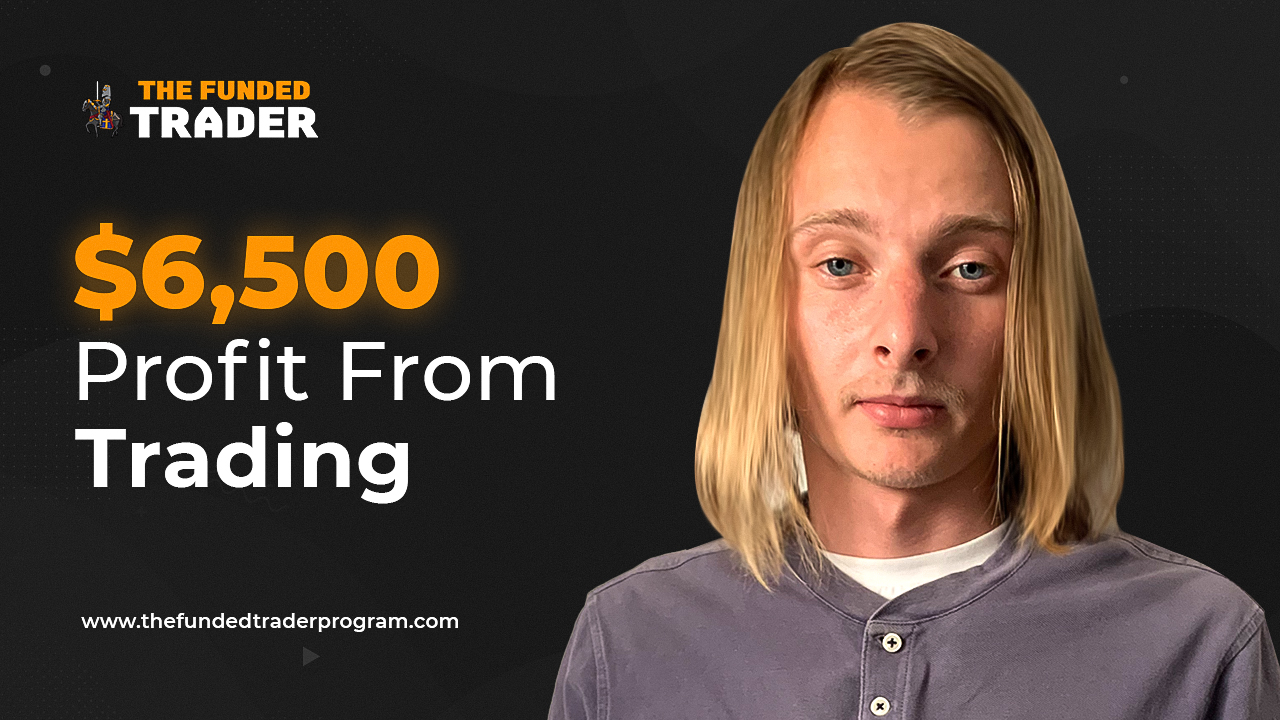 Background
Max Kim is a funded trader from the San Francisco Bay Area. He graduated high school in 2018 and has been in simulated trading for about two years. He got into Forex in particular in 2020 right after the pandemic.
Max had seen other people simulated trading before but he didn't know what it was at first. He essentially got into it after his brother showed him a little about what it was. He then started taking courses, learning from different people, and different mentors too.
He discovered he loved looking at the charts and trying to determine the different price ranges for the currency pairs.
Finding his own Strategy
To create his own strategy of trading, Max picked up ideas from everyone and everything that helped in his learning process and pieced it all together. Max believes there's no wrong way to trade because different people have different strategies that work for them. He called this an 'edge' which once identified, helps people decide what to do in the markets and how they can make a virtual profit from it. "You need to treat simulated trading like a casino, but you are the house" – he says.
What type of Trader is Max?
Max started as an Intraday trader. There were times he held trades over the weekend or for multiple days but he personally preferred to go in the market and be out of it in a certain fluid motion without allowing his trade to run too far.
One of the reasons he does this is to avoid not taking virtual profits at the right time. He likes to stay disciplined with his simulated trading knowing how much he's risking and how much virtual profit he'd be taking.
Concerning if he spends all day looking at the markets, Max feels looking at the markets over exerting which tends to make him feel not as connected to the charts. What he does instead is looking at the markets during his simulated trading hour session which is usually the London or New York session
Max's simulated trading Timeframe and Psychology
During trading, Max likes to use all the timeframes collectively. He however uses the 4hour, the daily, and the weekly primarily to determine his sense of direction in the market. He also uses lower time frames like 15 minutes, 5 minutes, and 1 minute to get his entries.
To Max, the mindset is the most important part of trading. He believes that even with the greatest strategy, if the mindset is not up to par with that strategy, then it's going to be harder to become profitable. He also mentioned how a lot of people aren't used to seeing a lot of money coming in at once especially after working a job. Because of this, they tend to overtrade, let the trade hit a stop loss, or have hesitation on not taking virtual profits because they're trying to accrue more.
Finding out about TFT, the Community, and his Lifestyle
Max used to trade for other prop firms but was not as profitable. However, taking challenges and seeing the results of his simulated trading made him persistent. He saw people who used it in his old simulated trading group using TFT and making progress. He saw that they had a $400,000 challenge. This was something he didn't have access to in those other prop firms. It was then he decided to look into TFT also.
Max was used to being independent and wasn't part of Discord. He however says he's looking forward to meeting new traders so he can expand his network. He hopes to reach out to new people soonest.
Max lists some of his hobbies which include hiking and skateboarding. He talks about how he's been skating a lot, generally exploring new areas but mostly from skate parks to skate streets.
He also mentions that with simulated trading becoming more progressive in his life, he's looking forward to traveling more.
According to Max, his strategy is more on mindset and probabilities. For someone to trade, they also must be okay with taking losses. With this, no matter how many times someone loses, he'll still be profitable if he has his mindset in check. He says the probability of a trade usually comes down to the odds being in your favor. He mentions that a lot of people don't understand these probabilities which may be a reason for not being profitable.
Payout Experience and Advice
Since it was his first time, Max had to wait for about a month after his first virtual profits to get his withdrawal. After that, he had to wait only three business days for his next withdrawal to be accepted. At the time of the interview, he mentioned that he was going to go through a wire transfer which would take a couple of days after which he was sure he would receive his payout and that he was really excited about it.
Max recommends traders refine their edge and find what works best for them. He says simulated trading profitably would become inevitable as long as traders keep learning, keep being persistent, and keep being active while also working on their psychology.
CLICK HERE to try a Standard, Rapid, or Royal Challenge