GBP and EU pairs are Steven's Favorite Pairs
GBP and EU pairs are Steven's Favorite Pairs
---
This week we take a look at Steven; one of our newly minted Funded Traders who has just earned his $50k account! He shares not only his simulated trading journey; but principles on risk management, psychology, and a look into his strategy.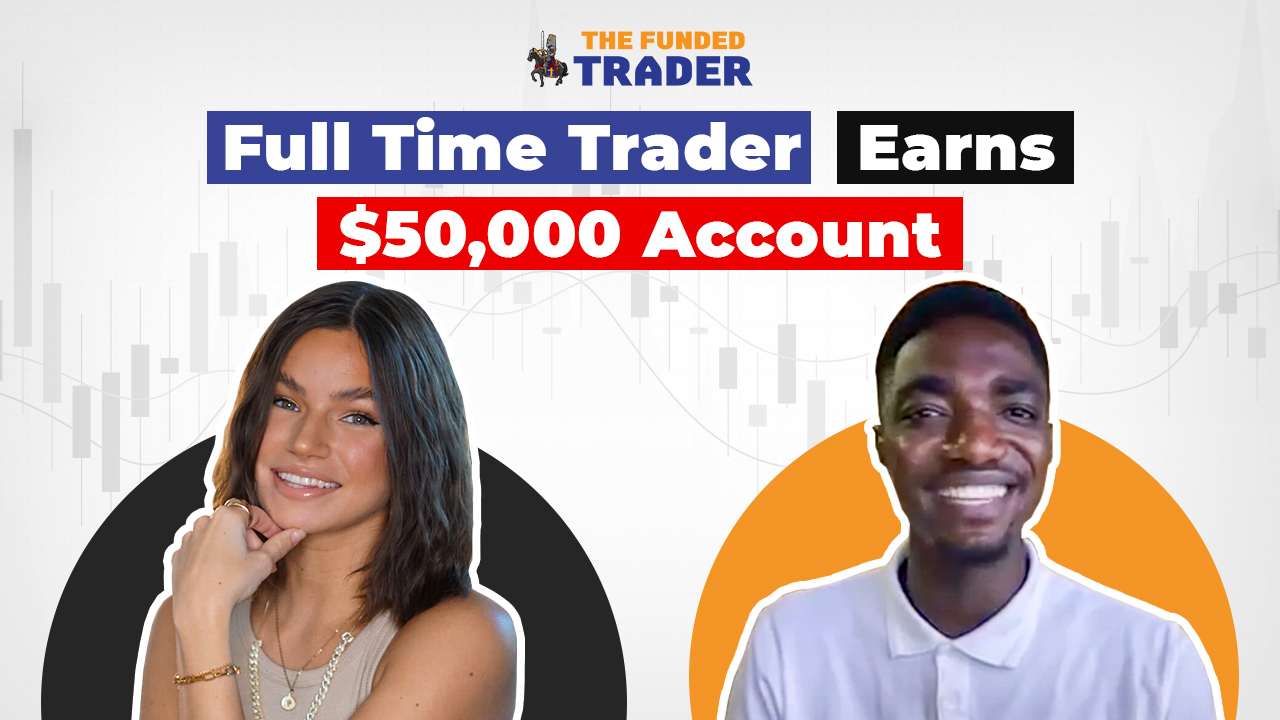 "Don't try to control the market, wait for your rules,
be disciplined and stay consistent" – Steven

Newest Funded Traders Segment
Hello the Funded Kingdom and welcome to this week's look at one of our newest funded traders, Steven Browne. Steven was originally from Sierra Leone and now resides in Cyprus where he is a full-time trader and runs a Forex simulated Trading Institute where he mentors people in different aspects of simulated trading and what pairs he prefers to trade (GBP and Eu pairs).
Interview with Steven Browne
As the interview kicks off, Tori asks Steven where he gets his educational background from, to which he replies " From Sierra Leone, I'm a social work student as well, I study peace and conflict". Steven then goes on to explain how he had to leave his full-time job to pursue a focus in simulated trading aspects as well as being a full-time trader.
From Facebook Group to Funded Trader
Elaborating on his begins, Stevens tells us it all started in 2016 while he was still located in Sierra Leone, he found himself embedded with a Facebook group where many individuals advocated for him to start trading. Steven was already aware of the financial markets, this knowledge coupled with the help of the individuals in his Facebook group helped him begin his journey into the FOREX community.
As Steven continues, he reveals that he found The Funded Trader through Blake VVS academy YouTube channel, On this channel, Blake announces that he will be covering his experiences with The Funded Trader and to this Steven thought "Let me see how it goes; everything's going well, alright let me give it a try".
Background in FOREX
Carrying on with his FOREX background, Steven tells us that he has experience with different prop firms, stating "I was simulated trading with The Purple Trading (TPT) for 6 months". Understanding the parameters of each prop firm and its challenges is essential to your success, and Steven shares with us his comparison of larger maximum daily loss and total loss on the accounts being strong incentives in favor of The Funded Trader. Emphasizing the timely, structured, and helpful community that The Funded Trader has created, Steven goes on to provide even more highly regarded reviews.
Having somebody who has been in the space and had the experiences necessary to form an understanding is crucial for steady and rapid growth, and this type of mentorship is something that Steven wishes he had when he began his journey. Teaching himself and reaching out to traders outside his community, Steven found early challenges, emphasizing his learning of risk management "the hard way".
Full-Time FX Trading
Being a full-time trader as well as a teacher to others, Steven dedicates almost every minute of his day to simulated trading for himself as well as mentorship. A portion of Steven's mentorship and teachings are based on one of the hardest lessons that he's learned throughout his journey; Risk Management!
As the conversation naturally turns to his personal risk management and time management, Stevns tells us that he really doesn't need to spend too much time actively watching the charts. "I have set my SL and TP levels, so maybe just 3 hours on the London session and 3 hours on the New York session".
Tori then asks Steven what his account size is with The Funded Trader. To this, he replies "I have a $50,000 account with TFT"; Steven then proceeds to talk about aspects of his simulated trading strategy, stating his most common timeframes are the 30M and the hourly. Wondering what type of trader Steven is Tori asks him "Do you consider yourself a daytrader, a scalper? Do you hold trades over the week?" to which he replies, "I'm a day trader and I do not hold trades over the week."
GBP and EU Pairs
Steven goes on to reinforce the importance of proper risk management after Tori asks him if he has ever blown an account before, revealing to us that he has blown "so many accounts" due to a lack of risk management and no simulated trading plan. However, Steven ends the interview on an inspirational note by letting us know his favorite pairs as well as leaving us with some advice. "My favorite pairs are GBP and EU pairs. I love them so much that they give me the opportunity to trade every day." "Don't give up, trading is one of the most difficult jobs in the world. You need to have a good mindset, you need to be physically and mentally okay."
What are your favorite pairs to trade? GBP and EU pairs?