How Zakar made $6000 in Payouts as a Funded Trader
"If you keep your simulated trading chart open for easy access, you can end up simulated trading because you're bored, and you'll take it out on the market." – Zakar
This week we speak to Zakar, a funded trader who was able to make more than $6000 in payout. He shares not only his simulated trading journey; but principles on risk management, psychology and a look into his strategy.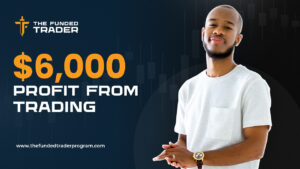 Zakar's background and how he got into Forex Trading
Zakar Dolcey aka Tradesmart is a 28 years old funded trader who was born in Pasadena California, grew up in Atlanta Georgia and raised in Chicago. In high school Zakar really liked economics.
After hearing about money making and the stock market from the class, he tried to make a demo account for stock trading, but he couldn't figure it out. He also realized nobody in his family knew how to go around it either. It was from that moment that he knew that's what he wanted to do. "To do what no one else knew how to". Eventually, he came across Forex 4 years later and he has never looked back since then.
How did Zakar get to this stage in Forex Trading
Zakar has been simulated trading for eight years and in the beginning, he was just using basic support and resistance. He started on Baby Pips and worked his way up. He came across the market maker method; that was his first time actually learning a complex strategy with different situations and indicators and things like that but eventually about three to four years in, he came across wave theory which was what helped him with his major breakthrough.
After that, he became more like a real analysis expert – "you are now an analyst of the market so that was my breakthrough strategy". Now he trades a combination of that with institutional concepts using those concepts to increase risk to reward which was what helped him pass his funded challenge and also get paid.
Zakar gives Insights about Wave Theory
Zakar explains how wave theory is a pattern based strategy that involves high recognition of patterns but doesn't need indicators. It's very technical and intuitive and you need to have a really good memory bank of understanding different waves patterns in the market, either impulsive or corrective. To him, the most important patterns are the corrective ones because that's when the market usually accumulates or distributes. He says being able to identify those patterns can help you basically forecast the waves of the market for the next hour, day, week or month.
The repetition in patterns doesn't explain why the market works the way it does, but rather in observing and predicting it
Zakar's Forex Strategy Modification
Zakar doesn't stick to simulated trading in one way. Although he had been simulated trading wave theory for four years, the method that he uses primarily is institutional concepts. He decided to learn institutional concepts after going through a bad period in trading. He understood that it allowed for better entries and he decided to try it out. He feels you really can't combine both as a strategy modification because it could be a little conflicting. However, you can get some really good setups if you can manage to allow them to coexist.
His Psychology for Forex Trading
For Zakar, the most important part about his psychology is risk management. Next is patience followed by discipline to stop over trading. When he first started, he started with the wrong expectations. He was very aggressive and wanted to figure out how to make money as fast as possible. He was also unafraid to use large lot sizes that were not relative to his account size.
With the experiences he's had, he's been able to become better and more aware of his psychology. Zakar is a full-time trader with simulated trading being his main source of income. However, he still has other streams of income. He believes for someone to be a full-time trader, it's more than likely for them to have other streams of income.
Finding suitable Prop firms
Prop firms put you in a position to trade more professionally and it has helped Zakar approach simulated trading a little more seriously and disciplined. He first found out about prop firms five to six years ago, but the payoffs were not attractive back then. He was simulated trading his own account and felt he had an advantage because he had autonomy over his deposits.
He, however, always preached to his simulated trading communities to stay in the industry because he knew that as technology and systems continued to advance, there'd be opportunities to make so much more money. Fortunately for him, FTMO cracked the code on how to really be a successful prop firm. With this came a lot of competition because there was always somebody trying to come up with a special that's better than theirs which eventually created a beautiful place for the consumers. Using The Funded Trader as an example, Zakar says it's so awesome because they could do a promo code where you start off with 90% payouts which was not how it used to be initially. He also talked about the opportunity to pay with a discount code and that he's really grateful for the prop firms.
Zakar's TFT Discord Community involvement
"I'm actually a community person". As much as Zakar doesn't mind tagging and answering a few questions in the Discord, he tries not to pay attention to other people's strategies because he believes seeing the wrong thing might be too costly for him. He likes The Funded Trader's Community, how everybody is active and tries to contribute to it.
Funded Trader Payout and simulated Trading Strategy
Zakar did the Rapid Challenge in the first two weeks and the payout he got from that was $6500. Although it took a little bit longer because of the weekend; about three business days, once it hit his Deel account, it took only two to three hours to transfer it from there to his bank.
As a top-down analysis type of person, Zakar likes to asess what is going on in the higher time frames. Sharing his screen, he displays how he typically starts all the way from the monthly. Using the Gold because it had a nice move up, he dives into the setup that he took earlier in the week. It came up to basically the high of a particular week where it closed. For the weekly, the whole zone was still in that same Supply Zone.
He also likes to look for lower time frame confirmations. He talked about how there are three-wave patterns and five-wave patterns. After making five moves, it created what you call a completed impulse which created a break of structure. This means that they got liquidity from those lows which also took out a lot of buyers.
What he learned and uses a lot now is basically imbalance zones. Between the two weeks, there was a void zone that was never filled. Marking it up denotes imbalance for Zakar.
Any low is a target for Zakar but he tries to see how it responds first. Still looking at his previous trades, he ended up closing out most of the order at that point and didn't hold it for the rest. It was in that exact area he also caught silver. They were very similar setups and it happened at the same time.
Zakar isn't a perfect trader but simulated trading this way gives him some really good risk to reward trades where you can come back from anything if you just manage your risk properly. He says that is one of the benefits of simulated trading in the way that he does without making it too complicated. He says if you're not a person that can maintain a really strong level of focus and really be able to identify clearly, it might not be as easy to work on this simulated trading technique. It would take a lot of practice. For Zakar, he has practiced this particular setup for a little over a year and it feels more automatic for him now. He says although it takes time, the results definitely make it worth it.
Zakar's Forex simulated Trading Pairs
Zakar only trades instruments that have correlation with the US dollar. That way, he doesn't have to have mixed biases about the market. For instance, If US dollar DXY index is going up, then Gold is going down, GBP/USD is going down, EUR/USD is going down, USD/JPY is going up, then the indices are probably going down too. There are moments when things lose correlation and don't follow the order but it's typically noticeable. All you have to do is to find which instrument is in most harmony with the DXY at that time. Zakar trades basically all of the indices; NAS100, US30 and SPX. He doesn't trade the DXY but uses it for determining bias.
Zakar's Daily Forex simulated Trading Routine
Zakar prepares his charts the night before. He stays away from the London session because it usually doesn't go well for him. He's however a huge New York session trader and likes to trade at 9:45 and 10 which is right after when the New York Stock Exchange opens. He drinks a lot of water and tries to put something in his stomach at all times. This helps him keep healthy enough to focus on simulated trading really well.
He also tries not to stay on the charts for too long because he tends to over trade. He deletes the app from his phone and hides the visibility of the account so if he sees a setup, it would take having to log all the way back in and find the account all over again which makes him more rational. "if you keep your simulated trading chart open, you can end up simulated trading because you're bored or end up simulated trading because something's not going right in your life, you want to feel a win but you'll take it out on the market". To avoid this, he tries to get out of the house as much as possible, so he doesn't get bored.
Advice for other Forex Traders
The first step is to get savings. Save up and get some type of cash flow because there needs to be an element of not needing the virtual profit.. This helps you trade for the experience but be sure the money will come as a byproduct of doing it correctly. For people that have the money and maybe lack patience or strategy, it'd be better to work on your discipline. Zakar also recommends learning institutional concepts and taking them very seriously. "You can't go wrong if you don't give up, it's a journey, you have to stay humble and keep learning". Zakar is eight years into simulated trading and still studies a lot. He says it's a never-ending process, but it pays off.