Barber earns 50k Account
Barbe earns 50k account: "One of the main things that trading will teach you is to be humble, as you will be humbled by the markets. Learning to take profits, and learning to wait for your setups. That's the most important part. ." – Johnny
This week we take a look at Johnny, one of our newest funded traders who just earned his $50k funded account. We will go through his journey, and forex beginnings, and take a look into his strategy plus how this barber earns 50k account.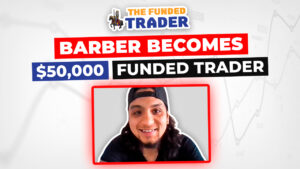 "I'm still new at this, but I'm still learning when to say, that's enough, whether that be due to losses or wins. Learning to stop after losses or wins plays a huge role in your success." – Johnny
How did you start out in Forex?
A year ago, when everyone got interested in crypto, dogecoin hype, etc. After that, I started getting into learning and studying on YouTube. My business partner, who started a cold-press juicery with me, trades options.
He tried to get that through to me, but there were too many rules for me. One of my clients at the barbershop actually trades forex, shoutout to Javier. He showed me what he was doing, and he was the one who mentored me. I've only been doing forex for about 6 months.
What motivated you to become a funded trader?
My friend Javier, introduced me to prop firms. He first showed me FTMO, and I saw what people were doing with that type of capital. It's way better than using your own money.
What's your educational background?
I finished high school, then I went to a career college to become a barber. It's the only job I've had, but I love it.
Is there anything you wish you did differently?
Not necessarily, everyone has to put in the work and go through the hard times, I'm just trying to get better at it. I probably wouldn't have started with a live account. I put in $100 to trade with, but you can't live and trade-off that.
Let's say you have a $10,000 account. 10% of that is $1000, and it's difficult to live off $1000 a month. My advice to those barely starting out, start a demo and treat it like a live account. After you've found some success with that you can try a live account.
How many times have you blown an account?
Real live accounts, I want to say 2. After I realized that trading with a live account isn't in my best interest, so I went ahead and switched over to a demo account until I was ready to move on.
What would you say your biggest barrier with psychology is?
In the first few months, it was a daily thing. I would have a zoom meeting with my mentor a few times a week. I would backtest during the day. At first, I wasn't really awake during London Session, as I'm from the West Coast. I realized it's better to look at the chart before your session time, and backtest.
Do you find yourself setting alerts, or are you sitting in front of the charts?
I set alerts. I trade London to NY Session. Honestly, my advice is to wait until your time zone to trade because when I first started I was always looking at the charts. "Oh wow, this is a setup and this is a setup", which results in blown accounts.
What is a hard lesson that trading has taught you?
Trading has taught me a few lessons, the first of which is patience.
One of the main things that trading will teach you is to be humble, as you will be humbled by the markets.
Learning to take profits, and learning to wait for your setups. That's the most important part. If you're rushing into things or revenge trading, especially with a pair like gold, it will rip you a new one.
When you take a few losses, what helps you come back from that?
On the second phase of the challenge, I was down a few thousand dollars. I waited a week in between losses and made it all back in one play. I was able to pass the challenge after that point.
Going over what I did wrong helped immensely. I'm still new at this, but I'm still learning when to say, that's enough, whether that be due to losses or wins. Learning to stop after losses or wins plays a huge role in your success.
What would you say your trading style is?
I would say I am an intra-day trader. I don't really like to hold for too long. Unless it's like a good setup that I see on the higher time frames, then I'll consider holding. With the movement that gold provides, holding is challenging as it can go up a few hundred pips and be back down to your entry within days.
Do you use any Fundamentals or focus on Technical Analysis?
I focus on Price-Action. I don't look at the fundamentals. I believe that the market is already priced in all the news and everything that's happening.
You'll see some huge movement and then look at the news which came out 20 minutes ago and caused that damage. The banks and funds are manipulating the market on a daily basis. It's not maybe or if, it's a for sure thing.
What do you believe The Funded Trader will do for this industry and beyond?
Long-term, I hope TFT competes with and even takes down FTMO. I think you guys are amazing. Your response team is lightning fast. It was a big factor for me when I was deciding which prop firm to risk my money with. I wanted it to feel real.
The highest maximum funding of $600,000. After three months there is the 90% payout, and at that point, you don't need anything else. It becomes risk-free from the consumer viewpoint. I love the transparency and the payouts which are very motivating.
Barber earns 50k account and you can too…