"You need to find places in the market based on your plan and your strategy that you are going to trade; and then, and only then, can you look to take advantage of high probability trade setups.". -Deyon
This week we take a look at Deyon; one of our newly minted Funded Traders who has just earned his $50k account! He shares not only his trading journey; but principles on risk management, psychology, and a look into his strategy.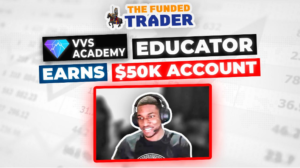 VVS Educator Earns $50K Account!
How did you start out in Forex?
I started out in a few academies but they turned out not to actually be about trading. Then, while looking up FTMO videos; I found Blake and joined VVS Academy and I've been there ever since.
What motivated you to become a Funded Trader instead of trading your own account?
Everytime I put money into a trading account it just never seemed like enough to take seriously. I'd always blow the accounts, so that was my main reason for getting into prop firms.
Have you ever traded with another prop firm or managed someone else's account?
I have never traded with another firm, this is my first one and I have never managed someone else's account.
How many times have you blown an account?
More times than I can count, must be at least a dozen times. Mainly because of psychology, I would have to say.
What would you say your biggest barrier with psychology is?
Patience. I just couldn't wait for the setup to show up, I was just kind of forcing it. Especially when you only have a few hours to trade in the market because you have a 9-5 job and you are trying to maximize profits in the time that you've got. But that's just not how it works.
For our viewers at home, what would you tell them to exercise that patience and not try and force trades.?
Whenever you try to force a trade it's never going to work because the market doesn't work that way. You need to find places in the market based on your plan and your strategy that you are going to trade; and then, and only then, can you look to take advantage of high probability trade setups. But if you go into the market and try to buy and sell from anywhere you are going to end up like I did. I've tried it 12 times and it didn't work, that's probably enough times to try something until you give up.
What are your favorite pairs to trade and why?
I would say at the moment EURUSD because of the tight spreads, liquidity, volatility, and the structure is very clean of which my strategy relies on.
With you being a Smart Money Trader, you guys are notorious for having high Risk to Reward, but a low strike rate; how do you deal with losses and come back stronger?
Okay so for me, I see trading as purely psychological. I actually don't trade to win trades, I trade to get the sample set. I go for a fixed RR, I don't take partials, I don't close early, I don't trail my stop. It's either going to be break even, a win, or a loss. My sample set is 20 trades and it's always a fixed RR of 1:10. Which means if I take 20 trades I only need to win 2 trades to be in profit at the end of the month. This approach keeps my mind in a place where I know that I can afford to take losses.
How will you manage your funded account to keep it?
This is what I tell everyone to do; take your worst losing streak and multiply it by 3, then take that number and divide it into your overall drawdown limit, and that will give you the amount you need to risk. Meaning that if you ever end up 3 times worse than you've ever been, you will still come out ahead.
What would you say your trading style is?
I am more of a scalper and intraday trader. But, mainly a scalper.
What time frame would you say you are looking at the most when analyzing the charts?
15 minute structure and 1 minute confirmations. I used to start on the monthly and do an entire top-down analysis, but then I started to realize that if I am scalping, nothing higher than the 15 minute chart matters to me.
Do you use any Fundamentals or EA's?
99% of my strategy is technical analysis, the 1% of fundamentals that I use is that I don't trade news because of wider spreads and the risk of slippage. And yes, I do use Magic Keys which is a risk management EA.
Do you ever hedge positions or trade against market structure?
Never.
Editorial Note: Some responses have been altered to fix grammatical errors.