Prison Guard Earns 50K Account
Prison Guard Earns 50K Account
---
Prison Guard Earns 50k Account: This week we take a look at Brandon, one of our newly minted Funded Traders all the way from the UK who has just earned his $50k account! He shares not only his simulated trading journey; but principles on risk management, psychology, and a look into his strategy.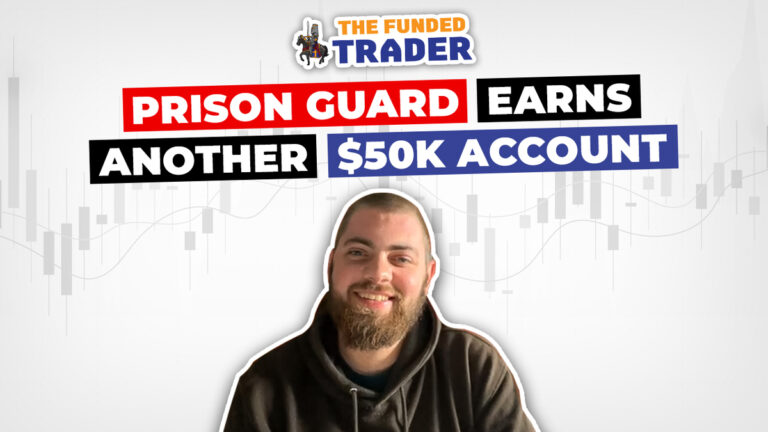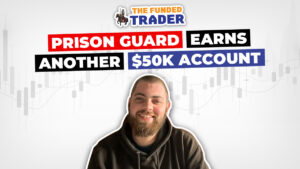 "Just take a look where you went wrong, maybe entering too early, too tight of a stop loss, or any other reason. There is always another day and another trade to be had.." – Brandon
What's your educational background?
I went to university for music. I did percussion for a year, then I decided to drop out. I played things like the drums, glocks, triangles, etc.
What's your occupation?
I am a part-time prison officer. In my free time, I trade.
How did you start out in Forex?
I started off roughly three years ago. I saw a friend get into it. I started off just paying for signals. I made some money, lost some money. It's not really something you can do full-time. About a year and a half ago I paid for a course to trade by myself. Since then I've just been going along on my own since then.
How did you hear about TFT?
I saw TFT on Instagram. I saw one of the promotions. I was looking for a prop firm with more rewards and opportunities. Looking at the kinds of payouts awarded to profitable traders I thought to myself, "I am a profitable trader, might as well give them a go," and here we are!
How do you feel about the Funded Trader's Community?
To be fair, it's probably one of the best communities I've ever been in. It's definitely one of the most welcoming. When I first joined the discord, I would post trade ideas or virtual profit., it's nice to have people respond and give their comments. Even when I passed my challenge, people congratulated me and were happy for me. It's better than a community in which people tend to be against one another or always competing. The Funded Trader is more like a conjoined effort of like-minded traders striving towards the same goal: to become profitable traders.
Is there anything you wish you had done differently?
I think the biggest one is trusting my own system. Every trader will face this at some point. You develop some strategy, you practice on demo, and become consistent. Once it comes time to try it on a personal account or funded account, I would end up doubting myself and the strategy, "Does this work, should I even enter," and so on. Then you see the trade outcome and it worked out perfectly, and you ask yourself why you doubted the strategy in the first place.
What is a hard lesson that simulated trading has taught you?
One of the most challenging lessons simulated trading has taught me is not to get emotionally attached to your account. At the end of the day, we know as traders that there are going to be risks. We know that losing is a part of the game. We are human after all. No one is going to win 100% of the time. When you come to terms with the fact that as long as you're doing what you're doing every day, you can have a few losses, and the wins will outweigh your losses easily. It's perfectly fine to have losses every now and then. I used to find that in my early days when I would have a few losses, I would get emotionally attached, start overtrading, and end up losing way more than I intended to. Whereas now, I take a loss, and go, "ok that's enough for the day," and come back tomorrow. Come in with a fresh mindset and then you make it back, 3-4 times what you've lost.
Do you find yourself setting alerts, or are you sitting in front of the charts?
I set up and analyze the charts on the weekend for the upcoming week. I do all of my preparation on the weekend because it allows you to look back at the previous trades that you may have won or lost, so you can see where you went wrong or right. I like to plan ahead and take into account the upcoming news events. I set my pending trades, and I'm ready for the week. I learned to trade because I wanted to spend as little time as possible on the charts, and just in general have more freedoms in life as that is the end goal of the majority of traders. The name of the game is to be free and do as you please. My system allows me to spend as little time as possible on the charts, so I can enjoy my free time.
What motivated you to become a funded trader?
The main reason is the bigger capital. For me primarily, was managing the risk. On a personal account, the accountability is not there. You can over-leverage and be done with it. At the end of the day, it's your account and your own money to lose. On a prop account, you have limitations, boundaries, and rules in place to keep you on track and give you a better chance or ability to refrain from overleveraging. That's where you really learn to be precise with your risk management. I only risk no more than .8% of the DAILY drawdown. This gives me leeway in case any of my setups, correlating trades, etc. go south.
When you take a few losses, what helps you come back from that?
Personally, I just take a break. Whether it be a day or a week. Once you've been following a system for a few years, there's no reason to go back and scrap the whole system just because of a few losses. Just take a look where you went wrong, maybe entering too early, too tight of a stop loss, or any other reason. There is always another day and another trade to be had. Take a breather, not looking at the charts, just getting your mind off the losses and simulated trading altogether. Come back refreshed and crack on with it.
What would you say your simulated trading style is?
I definitely see myself as a swing trader. Looking for those long-term positions, but at the end of it all, it's simply, " 30 pips a day keeps the doctor away." If you make 100 pips a day, that's easily equated to a week's work at another job.
Do you use any Fundamentals or focus on Technical Analysis?
I do factor in fundamentals. I like to use myfxbook to look at upcoming news events, forexfactory. Look at predictions of what the results may be and the effect the news will have. I look at some of the different currency indexes to get a sense of long-term direction. Most of my simulated trading involves technical analysis. I focus primarily on that aspect of trading.
What do you believe The Funded Trader will do for this industry and beyond?
I honestly think TFT will make other prop firms re-evaluate their own prop firms because TFT is coming to take the throne by force. More people are going to hear about it, more people are going to give it a go and realize the opportunities given, rewards, scaling, etc. It's going to make many traders leave other prop firms. TFT is coming by force!
Prison Guard Earns 50K Account and you can too!