How did Sarai Antoine make $1,200 profit from Trading?
How did Sarai Antoine make $1,200 virtual profit from Trading?
---
"Your level of success comes with what makes you happy" – Sarai Antoine.

This week we speak with Sarai, our newly minted female funded trader who was able to pass her evaluation test to become a funded trader on her first try. She shares not only her simulated trading journey; but principles on risk management, psychology, and a look into her strategy.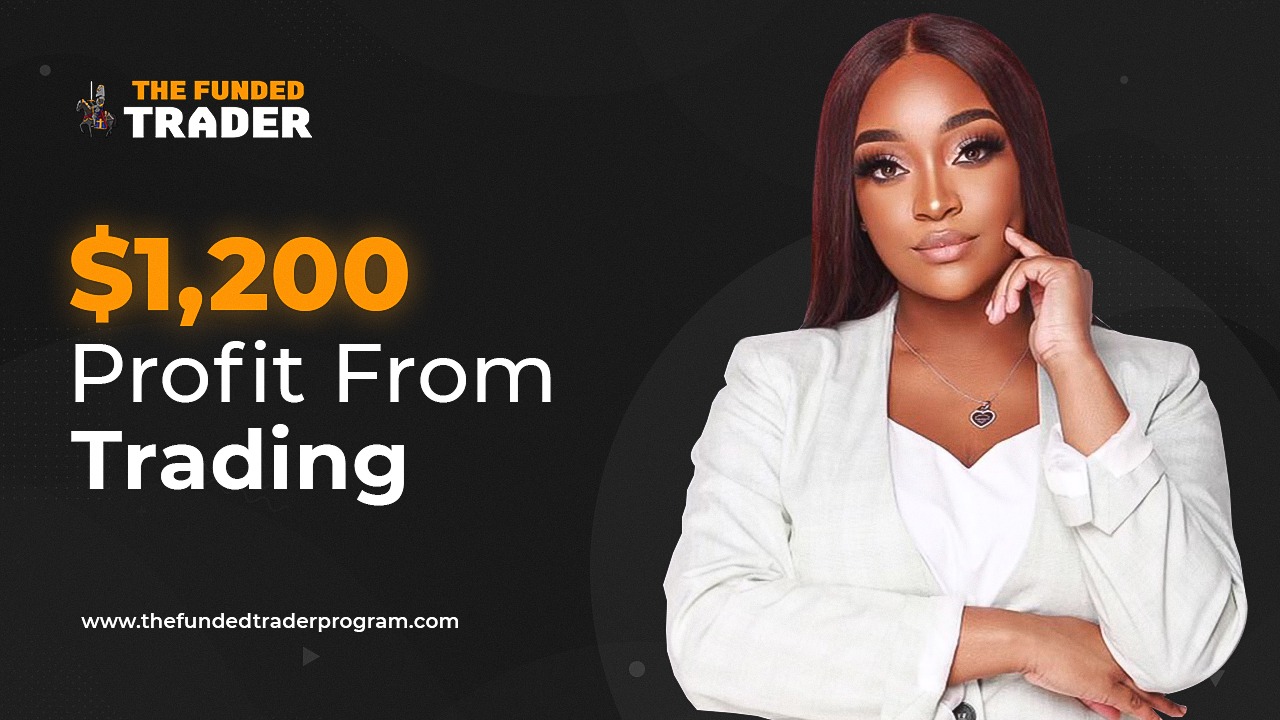 How it started for Sarai
Sarai Antoine also known as 'the female trader' started simulated trading about 4 years ago. She got introduced to simulated trading through her cousin and was surprised at the possibility of making money the way he was. It was At that moment she made up her mind to try it out and eventually started taking a series of courses.
How did she discover TFT?
Sarai explained how she had heard about prop firms and had taken a series of evaluation tests before but she didn't hear of TFT till after one of her members took the challenge and passed it. He then spoke to her about the opportunity of being funded through the program.
She mentioned how she had to do her research about the organization and proceeded to mention the things she liked about the program which included the leverage and minimum simulated trading days. Another plus for her was seeing all the good reviews on Instagram and YouTube from different people about the program.
This also helped confirm the legitimacy of the program for her. She then decided to try it out and she passed the evaluation on her first try.
Sarai shares her experience with the TFT community
Sarai has been a part of the TFT discord and commends it for being a wonderful platform, although she doesn't communicate as much. She proceeds to explain why by saying how she also has her own group which she calls 'the female trader group' which was set up with the aim to empower women, provide valuable information to them and also expose them to opportunities that the market can provide.
This was done after noticing that the industry was a male-dominated one when she first started trading. Sarai was also excited to tell us about how she has been able to recommend three women in her group through the TFT program who were currently taking their evaluation phase (as of the time of the interview).
Sarai believes that women are really passionate and that a woman who can last more than a year in simulated trading definitely has no limit to what they can do. Sarai really appreciates how the TFT platform embraces female traders, especially seeing Tori representing TFT which was one of the reasons she knew it was a good platform for her.
What Strategy works for Sarai?
Sarai talks about her strategy and what she feels sets her apart from other traders. "I'm more of a price action trader," Sarai said. She believes that when it comes to analyzing the market, she doesn't use as many indicators as someone who is an 'indicator-based' trader.
Sarai prefers pure base charts and focuses on supply and demand, support and resistance, candlestick formations, and using those confluences to make her decision when it comes to entering the market.
For her, it is more about understanding how price reacted at a particular zone, what it did previously, and then making a decision from there.
Daily Scope of Trade
As an Intraday trader, Sarai's focus is more on looking at the H₁, m15, m30, and sometimes m1 just to kind of see how the market is reacting to the lower time frame. While appreciating how The Funded Trader program offers various account types, Sarai believes it helps her decide when to take a swing position but usually her focus on an everyday basis is Intraday simulated trading using the H1 timeframe to enter and exit.
When Tori asked Sarai if she sets alerts for her trades or watches all day, she laughed and agreed to be glued when she first started, saying how everything was always on alert. Sarai doesn't believe in simulated trading every day, and her objective every month now is to at least trade for five or six days out of the month. She usually does the analysis a day or an hour before the market opens. She believes it's better to wait and work on a setup or strategy that's perfect for you and to maximize on that instead.
Handling Psychology / Psychology for Trading
Sarai explained how psychology in simulated trading isn't talked about enough and that getting different hits in the market could definitely affect people's psychology.
She said her psychology only just got better within the last two years of trading. When she just started trading, she was always trying to ask herself questions and figure out why she was losing, even when her percentage and ratio were great.
However, while researching, she found a book 'trading beyond the matrix' which talked about position size strategy. She was able to keep her psychology intact by having a prayerful life, meditating, working out, and generally staying positive. She always tried to remind herself that even with a loss, the market has opportunities for you to regain, so she tries not to worry so much about it and instead trusts her process.
Payout Experience with TFT
Sarai recently had a payout and she explained how smooth the transaction was, especially since they made sure she got her payout the same day she was told she was going to get it.
"Overall, I did have a great first payout."
She mentioned how laudable the customer service is and how they're always available to speak to you about your concerns any time of the day. To Sarai, everything outside getting paid and the whole process that leads to it is what makes it worth it. She talked about the consistent communication from TFT; updates about what's going on, motivational emails that help you relate with people going through the same process, and available discounts and support.
Advice to New Traders
In Sarai's words, "Don't be afraid to reach out". She talks about how there's usually a sense of pride, especially for new traders, so the extra leap could help transition their simulated trading experience. She also goes on to explain how the market rewards patience. "As long as you're willing to put in the work to execute what you need, the sky is the limit"
CLICK HERE to try a Standard, Rapid, or Royal Challenge