Chicago-Based Trader Reveals Everything
Chicago-Based Trader Reveals Everything
---
This week we take an inside look at Josh who is the Chicago-Based Trader who reveals everything; one of our newly minted Funded Traders who has earned a funded account and returned to share more wisdom!
He shares not only his simulated trading journey; but principles on risk management, psychology, and a look into his strategy.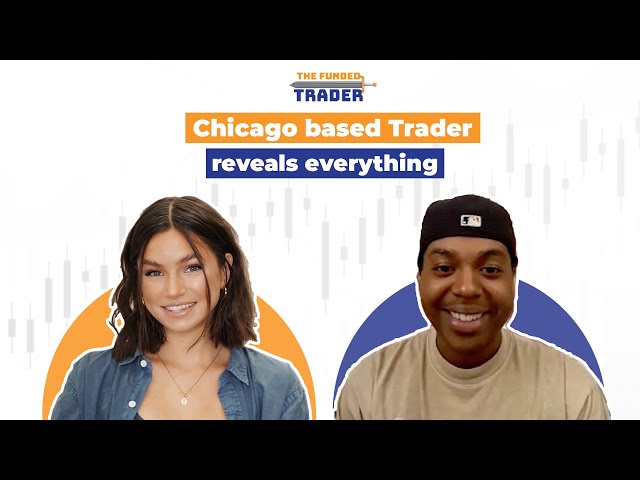 "You'll always have an opportunity to conquer" – Josh

Hello Kings and Queens of the Funded kingdom, today we take a look at the 2nd interview of Josh Rivers (Chicago-Based Trader), discussing his experiences within the FOREX community, his rise to success as a full-time trader, and his personal background which helped lead him to this point.
Josh Rivers is OFFICIALLY a Full Time Trader
Josh Rivers, or JR as his friends call him, is a full-time trader that was born and raised in a town just outside of Chicago named Evanston. It was here that he and his siblings grew into adulthood, where inevitably he decided to engage in higher education. Unfortunately, the Covid-19 pandemic had hit, causing factors of the unknown and difficulties to arise for millions, but JR was resilient.
Knowing he didn't want to pursue college, he began looking to his brother, an individual who had been embedded in the FOREX space for 7 years, at the time of this writing. JR goes on to explain how his brother enabled him to begin a successful career, teaching him, mentoring him, and providing the experiences he had gained from years of dedicated study and application.
Victoria continues the conversation, asking questions about JR's current exposure to financial markets, to which he responds with enthusiasm and gusto, explaining his future endeavors and inevitable progression into markets outside the FOREX space. J
R goes on to share where his strategy has derived from; his brother who had helped him gain entry into the space had worked with him in creating a personalized strategy that works best for him. As JR explained the role his brother had in his success, the conversation quickly transitioned to that of mentorship.
Mentorship From Experienced Traders
JR opens up about the mentorship he has received and explains the benefits as your mentors are not only there to share knowledge and experience, but they "keep you structured" and "keep you focused". Both parties speak to their family mentors and find many similarities in this, as Victoria has her uncle to mentor her while JR has his brother. As of July 2022, JR has been simulated trading for a year and has had experience with other prop firms however, soon after his brother decided to make the switch to The Funded Trader he fell in love with the efficiency and timing of the firm, JR then followed suit.
JR goes on to show his appreciation for The Funded Trader community as he calls us a family and explains how prior to this interview he was engaged in conversation with other members through The Funded Trader discord page. As a community and a family, we strive to provide dedicated excellence and this has transitioned to the members as they continue to help each other grow, learn, and engage.
Knowledge Aspect of Trading
Victoria then steers the conversation toward the knowledge aspect of simulated trading asking JR how much time he had dedicated to studying every day to which he responded, studying would take up about half of my day so I would spend almost 12 hours studying every single day. JR is then asked "What kind of trader are you, intra-day, swing trader, scalper?" and to this, he shares that he is an intraday trader and how he is in the process of developing a strategy that aligns more closely with swing trading.
This response by JR sparks a conversation of timelines where he conveys the importance of having patience, emotional awareness, and emotional fortitude when engaging in and maintaining longer-term trades, with longer-term trades you must be prepared to face lower and longer dips away from virtual profit but to have confidence in your strategy.
Hard Lessons in Forex
JR is asked to share a "Hard lesson" that he has learned through his time in the FOREX space. Unwavering confidence in yourself and in your capabilities, JR explains how he has made some mistakes in the past due to him second-guessing his strategy. Through these experiences, he now maintains a stance that you should "believe in your strategy" and have confidence in the work that you've put in. As JR speaks to the lesson he has learned through shared experience, he begins to shift to his experience with firms. JR shares the details of his switch from FTMO to The Funded Trader, stating things like "The Funded Trader is "knocking it out of the park", how our community is highly incorporative and timely, and how we are "the new thing in today's age".
Preferred FOREX Pairs to Trade
Victoria then proceeds to ask JR (Chicago-Based Trader) about his preferred pairs when trading. I prefer the pairs that have big movements throughout the day like "gold", "Yen" pairs and "the British Pound". With this, the interview is complete, and they begin engaging in conversation regarding advice for newer members of The Funded Kingdom and beginner traders alike. JR explains how "staying sharp, staying poised" is certainly the most crucial aspect of trading, trading psychology is essential and something that every trader should engage in. Continuing with his advice JR says "The Funded Trader man, they're on top" as he tells the listeners to take advantage of the Funded Trader because they are "In your best interest".